Medical services were disrupted during the Corona pandemic.  In villages, corona patients were suffering due to the shortage of ambulances. Patients who availed ambulance facilities were overcharged such as 3000 to 4000 per kilometer. Even in an emergency situation,Corona patients were unable to reach the hospital.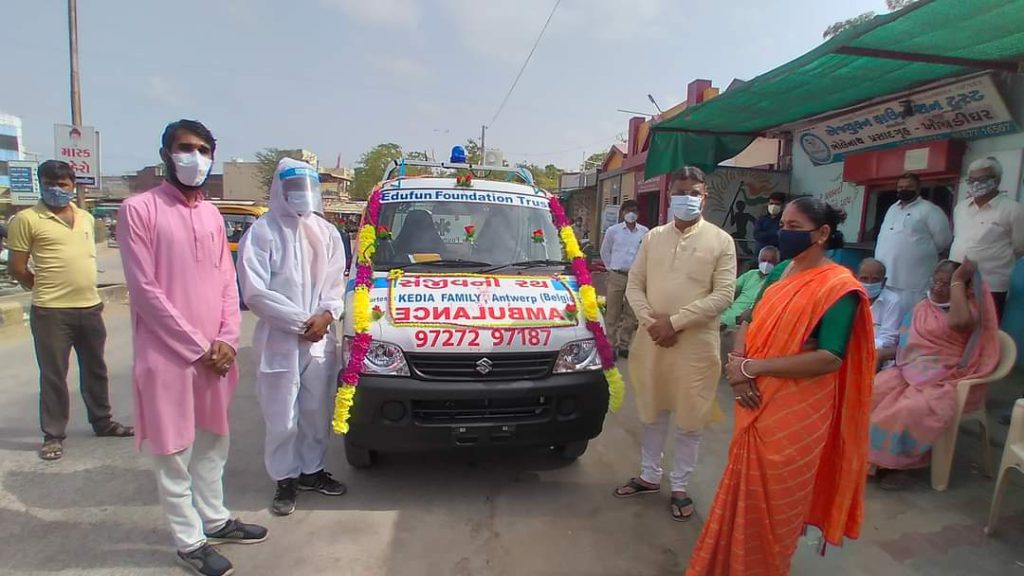 To address this problem, "Kedia Family" from Belgium and Kishorbhai Shah (Alias- Jivadaya) donated an ambulance named "Sanjivani Rath" to Edufun Foundation. We provided free ambulance services to shift patients from home to hospital and from one hospital to another for advanced treatment. The corpses of corona patients were transferred to crematorium without charges following all corona guidelines.
Later,  we continued this ambulance service at a nominal rate of Rs. 200 to 1000 and free of cost for the poor. We are now planning to give the service of Sanjivani Rath to children, women and old age people of slums with the added facility of a team of Doctors and Nurses.
We organize free blood group check up camps in villages of Banaskantha district to motivate people for blood donation. Blood Donation Camps fulfill requirements of Blood Banks and they can supply blood as and when demand arises.  We have organized 4 blood donation camps and collected / donated 365 bottles of blood. 365 persons participated in camps from Charada,  and Valer villages of Dhanera taluka and Duva and Luvana villages of Tharad taluka.
We organize health checkup camps in different tribal areas of Banaskantha Districts. Check up camps cover Orthopedic, General Physician and Gynec doctor's advice. Nearly 600+ persons benefited from these check up camps.