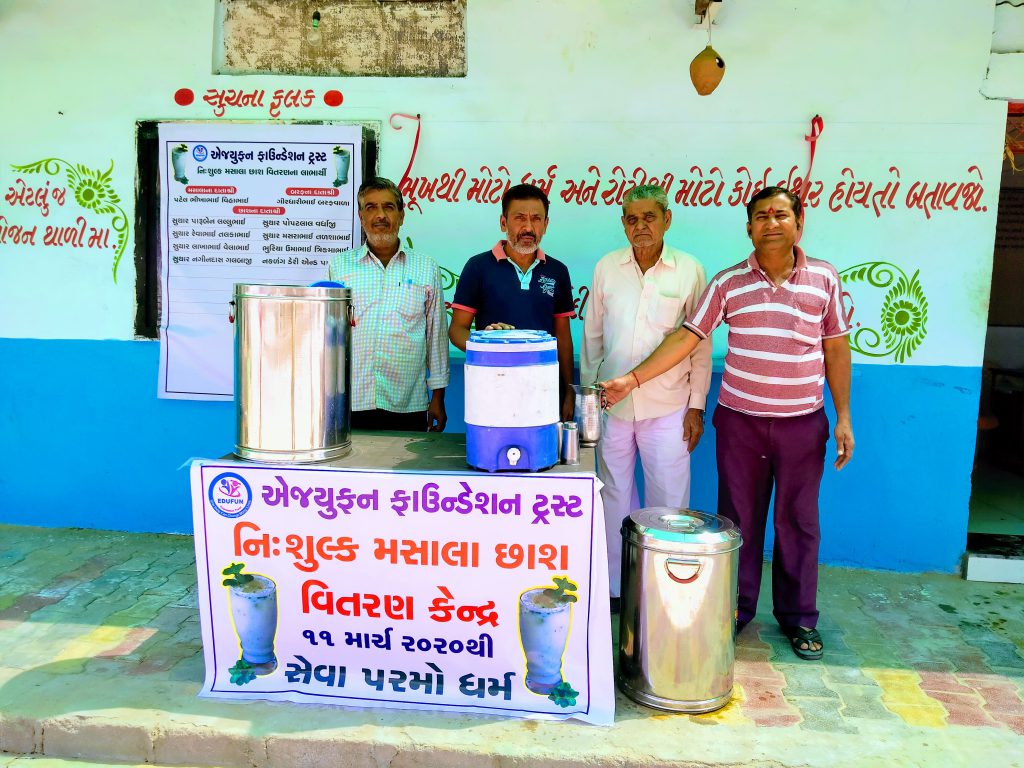 Khichdi Ghar simply means a dining hall. We have started this project in the small rented place near the Railway station in Dhanera in the year 2018. There are many factories, rickshaw stands, railway stations and hospitals near the Railway station of Dhanera. People working in factories, hospitals, and doing sundry jobs hardly earn Rs. 6000/- to 8000/- per month. They cannot afford afternoon meals in costly restaurants.

If we calculate per plate at Rs. 80/-, it will cost Rs. 2400/- a month. For all those people, Khichdi Ghar has a monthly pass system of Rs. 600/- which can be availed by paying Rs. 20/- for a full plate meal per day. We do not compromise on the quality of food.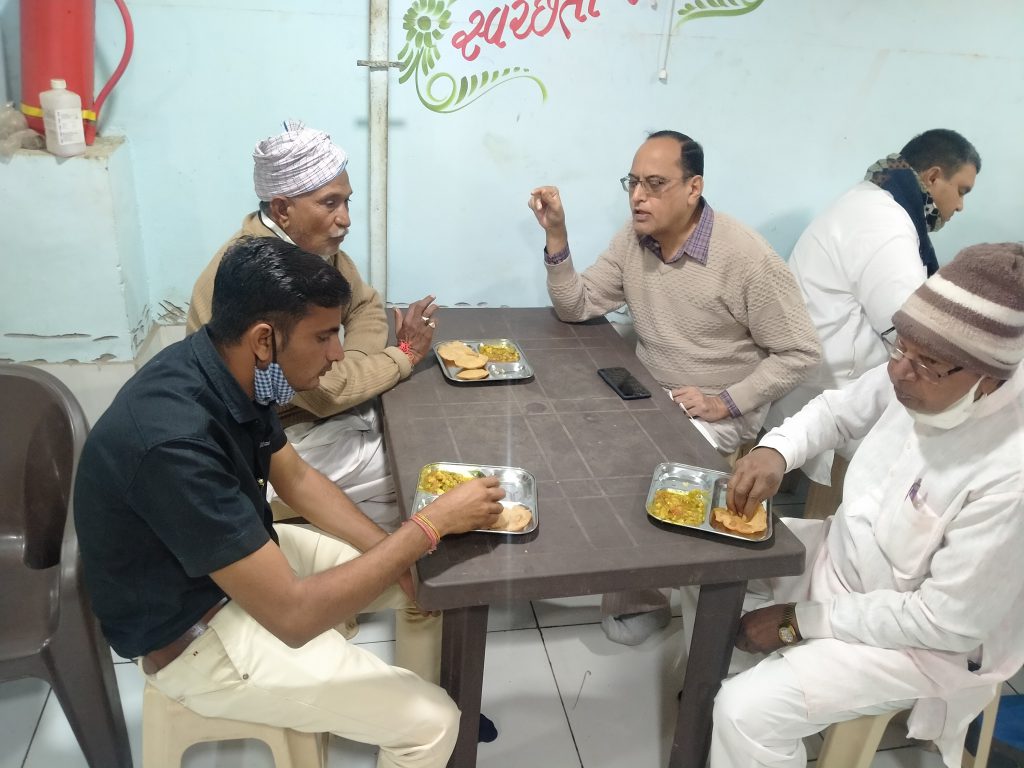 Beggars, Monks, Office workers, Factory staff, Hospital patients, and their relatives have been benefited by this Khichadi Ghar project. Everyday approximately 250 people take advantage of this project. We serve Khichdi Kadhi, Puri / Chapati / Bhakri-Shaak, Dal-Bati in meals in lunch time between 11:30 a.m. to 2:30 p.m. and in dinner time between 6:30 p.m. to 9:00 p.m. Free meals are provided to the old age people , children and no income group families residing in huts.

Last year in Corona Pandemic due to lockdown all food joints were closed. At that time Khichdi Ghar served free food to needy and poor people for continuous 57 days and this service still stands for the same group.
It is based on the principle of "Save food, Respect food". We collect surplus food from social occasions and distribute the same in slum areas.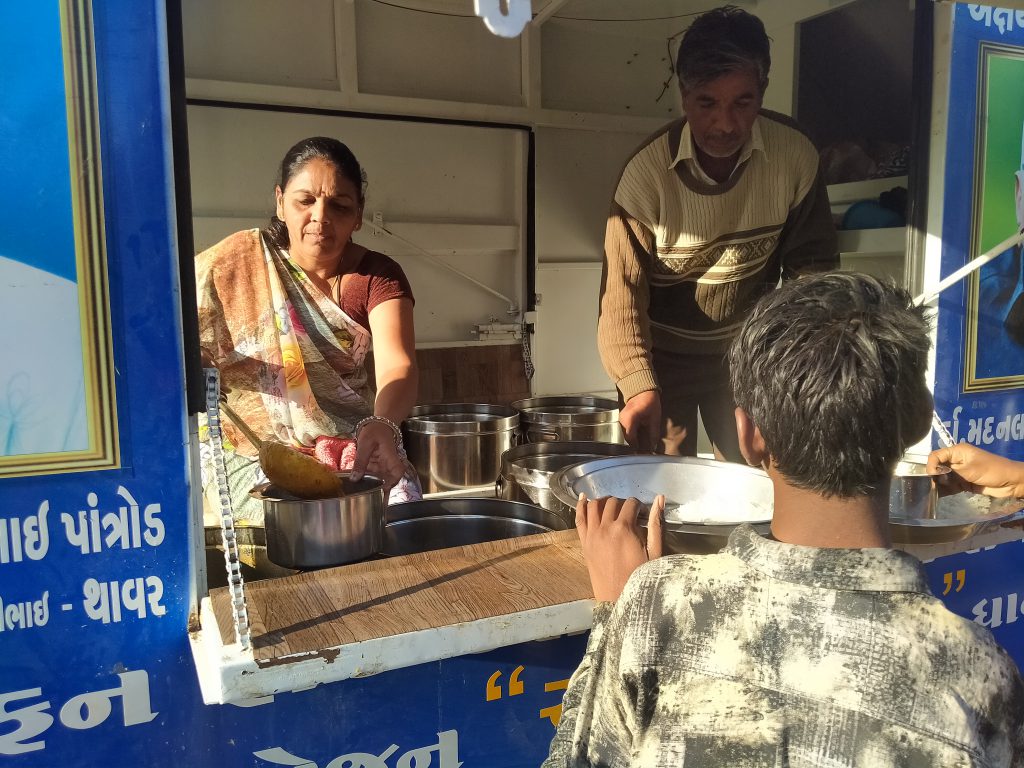 We often waste food due to lack of food management in our social gatherings and events. So, the surplus food after the occasion is over, either go in the dustbin or in the landfills. Cooked food quickly becomes stale and if it is not disposed of timely due to other social priorities, it may harm the health of the street animals or farm pets after eating it.
The Edufun Foundation team took the initiative to distribute the surplus food to the persons deprived of food. They used to go on their private vehicles for distribution in Dhanera and nearby villages. Gradually more and more people have started calling Edufun Foundation to give the food.
It was very inconvenient to distribute food by using personal vehicles.
Hence, they needed a food distribution van. And, with the advice and suggestion of the advisory team, Edufun Foundation inaugurated 'Akshay Rath' on 16th January 2020 for the purpose of ensuring that the surplus food on any such social occasion in Dhanera taluka should reach the hungry person in time. It has channelised our food distribution system.
During the 26 months, we have collected surplus food from 319 social events and distributed it in the needy areas and prevented wastage of food which has fed approximately 159500 people. Akshay Rath collects surplus food from more than 100 villages in the vicinity of Dhanera Taluka and distributes fresh meals and sweets to the needy people in 22 slum areas. After getting a meal, slum people do not make dinner for that day. Consequently, it saves wood used as fuel for making dinner. The organization is planning to start Akshay Rath in many parts of Gujarat starting from metro cities to stop wastage of food.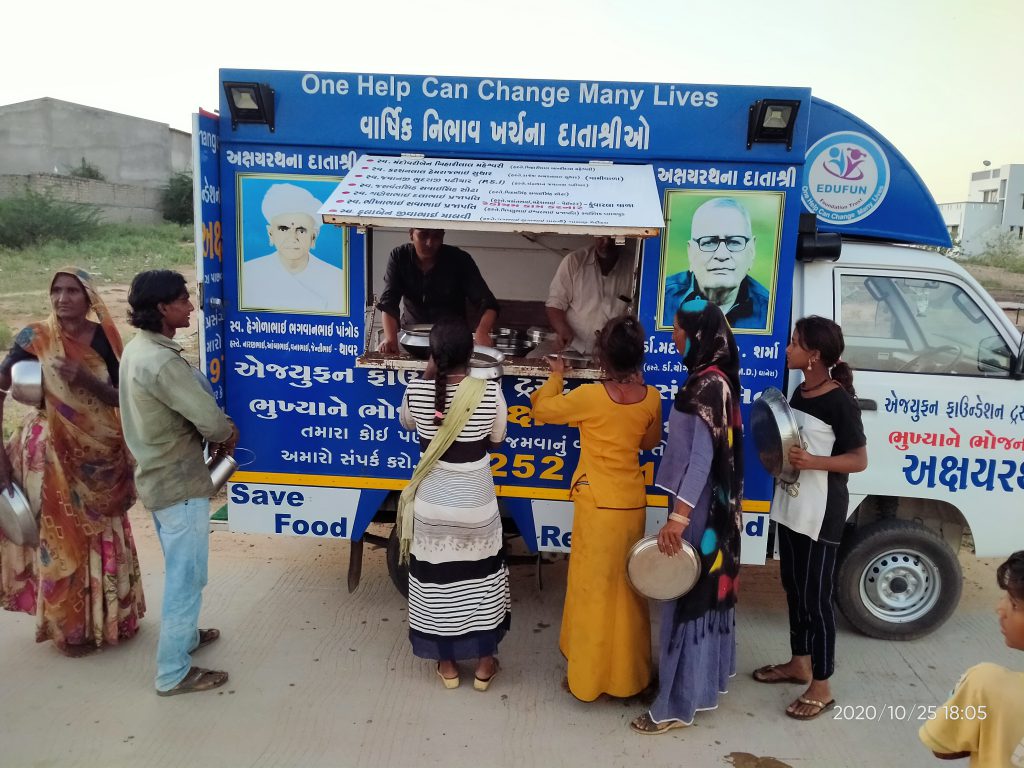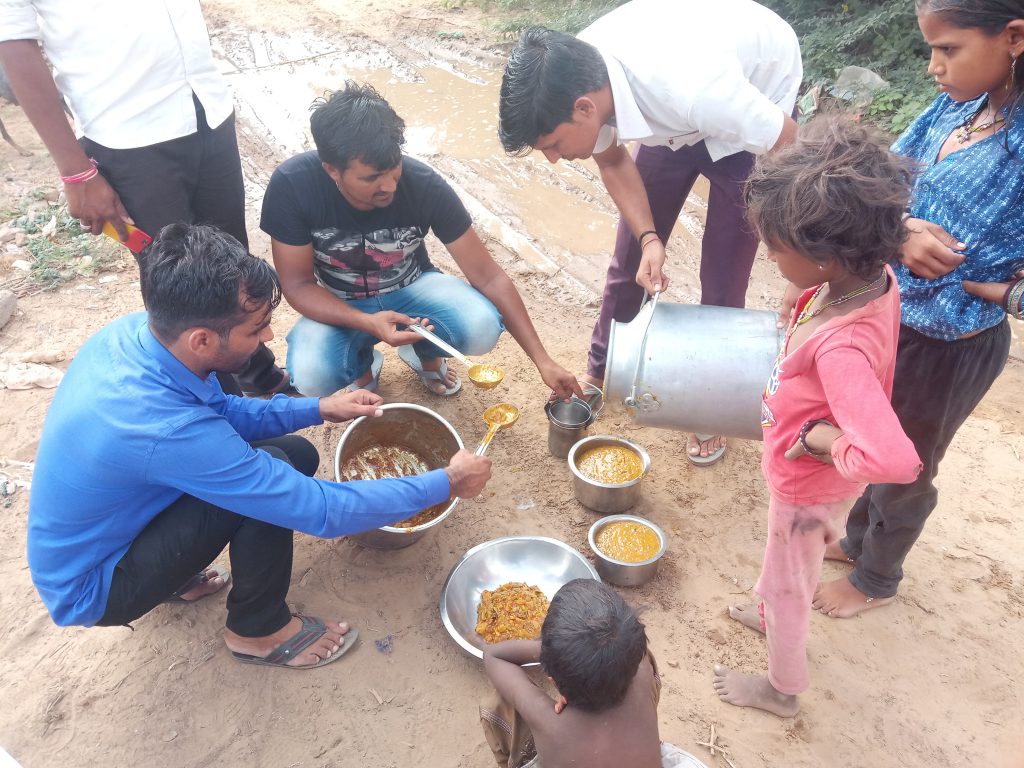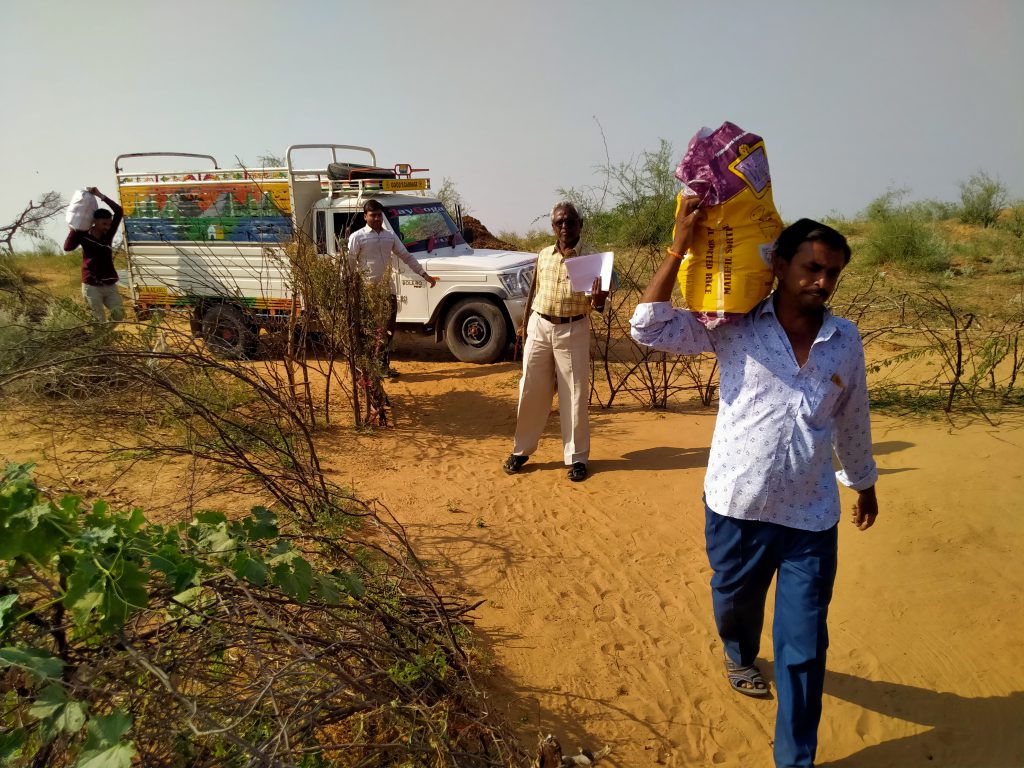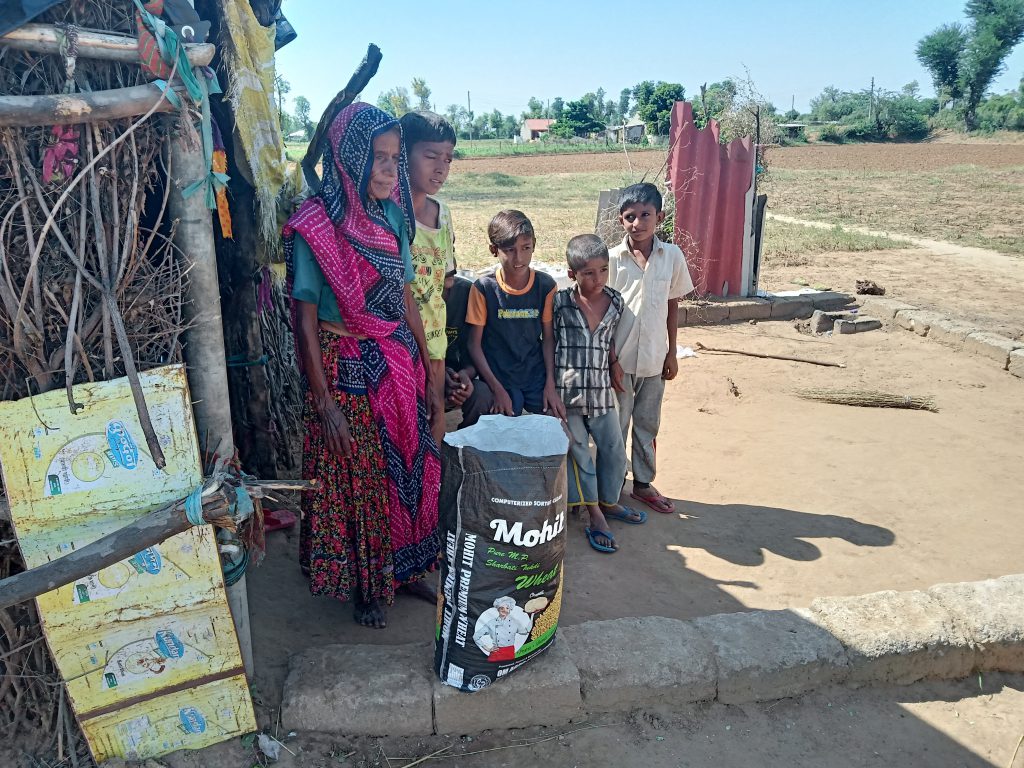 Monthly ration kit costs approx ₹1500 which contains chili, turmeric, jaggery, oil, tea, soap, mungdaal, rice , wheat , sugar, salt etc for two people. These kits are distributed on a regular interval in villages of Banaskantha district, Gujarat.
Edufun Foundation Trust Immediately responded to the Covid-19 pandemic by distributing Ration kits to laborers who were struggling to get daily meals during the lockdown to feed their families. We packed ration kits as per the needs of different families. The average cost of one kit was approximately Rs 1,500/-. These kits were made for a family of four members to fulfill the need for 25-30 days meals. These ration kits contained- rice, wheat, oil, millet, mung dal, sugar, salt, spices, tea, matchsticks, sack of potato & onions and some glucose biscuit packets. Total 585 ration kits were distributed in 16 villages of Dhanera. wholesale distributors supported us by giving ration at discounted rates. Social media helped us to get 45 ration kits and donations in kind.